June 1st, 2018
Gothic Furniture Participates in the Housing Works 2018 Design On A Dime New York Benefit
On April 26 th 2018, Gothic Furniture was invited by the talented interior designer, Claudia Giselle, to participate in the 2018 Housing Works Design On A Dime Benefit. It was an honor to have the privilege of working with Claudia Giselle on this important project and to contribute to this worthy cause. Housing Works is a non-profit organization. Its mission is to help New Yorkers affected with AIDS and homelessness. This year's event raised over $1.2 Million dollars. We thank Claudia Giselle and Housing Works for giving us a small part in such a meaningful event. We also thank our in-house designer, Tony Stakis, and our skilled craftsmen who worked so hard and enthusiastically on this project. We look forward to working with Claudia Giselle and Housing Works in the future. To learn more about the Housing Works Design On A Dime Benefit or Claudia Giselle Designs, please visit: www.claudiagiselle.com www.housingworks.org www.houzz.com/pro/85thstreet
---
June 6th, 2017
Tyler Perry Donates Gothic Furniture Bed to New York Track Star Family
In November 2016, The View featured a family "whose strength and determination personifies what it means to be a champion." Sisters Tai, Rainn, and Brooke Sheppard made headlines in the 2016 AAU Junior Olympics in Houston where they each won medals in track and field. However, their journey wasn't an easy one. At the same time as they competed in the Junior Olympics, they were all sharing one bed in a homeless shelter in New York with their mom, Tonia Handy.
The View featured their story and debuted the cover of Sports Illustrated for Kids in which the Sheppard sisters were named Sports Illustrated Kids 2016 Sports Kids of the Year and featured on the cover. After seeing their story, entertainer Tyler Perry offered to find them a place to live and pay their rent for the next 2 years. In May 2017, the family returned to The View to follow up on their story. They were told that they had to spend time out of their apartment so that it could be painted, however they were in for another surprise. Since they had been sleeping on air mattresses and didn't have any furniture, Tyler Perry also paid to have the new apartment fully furnished by interior designer Mike Harrison. One of the furniture pieces donated by Tyler Perry was a Gothic Cabinet Craft bed. The bed is a full size 12 drawer storage bed made out of birch with an antique cherry finish, handmade in New York. Gothic Furniture is honored that it was chosen as a vendor for this project.
Gothic Cabinet Craft was started in 1969 in New York City. With a focus on quality and affordability, designs have evolved into practical storage solutions for urban areas. Gothic Cabinet Craft is a family operated business that manufacturers affordable, real wood furniture for every room in the home.
To learn more about the Sheppard sisters and their story, The View segment can be found here: https://www.youtube.com/watch?v=wa9-GN-uevs To learn more about Gothic Cabinet Craft, visit the website here: https://www.gothiccabinetcraft.com/
---
New York Post May 5, 2014
THE NEW GOTHIC FURNITURE
Mainstay New York City manufacturer/retailer undergoes a makeover
Springtime is the most popular time for a home makeover. So many New Yorkers take advantage of - or get inspired by the improving weather to revive their living space. Cleaning, painting, getting better organized and buying new furniture are popular ways people give their homes a face-lift and reinvigorate their life. So too it can be for area businesses. Gothic Cabinet Craft has been manufacturing all wood furniture in New York City since 1969. This spring, in their 45th year in business, they are rebranded as Gothic Furniture.
Ari Zaharopoulos, owner of Gothic Furniture explains the transformation: "Although the Gothic Cabinet Craft name has been well known in New York since soon after my father built his first pieces downtown, the name can confuse people who don't already know us, and for our website and online having the word Furniture in the name became more and more important." That location, at 13th Street and 3rd Avenue, also has some more New York City history, as it is seen in the classic film Taxi Driver with Robert De Niro. Gothic Cabinet Craft fan's don't need to worry, they still manufacture great wood furniture in their Maspeth Queens factory featuring New York City favorites like The Original Captains Bed™, The Original Storage Bed™ and The Original Platform Bed™ and countless configurations bookcases and storage furniture, including New York's most affordable, functional and space saving modular closet systems. Most Gothic built furniture is available unfinished for the cost conscious or the do-it-yourselfer. But the name is hardly all that has changed at Gothic Furniture. A customer who hasn't been to Gothic in a while might be surprised at how many complete rooms of furniture they will find, shown in so many different finishes and selections with modern molding and hardware designs. And even a smattering of very competitively priced imported sets that are chosen specifically for Gothic with a true craftsman eye. Mr. Zaharopoulos calls the import collections "affordable furniture built with the kind of quality that we are proud to offer, and particularly offer a wider range of furniture styles available at Gothic-Furniture.com and GothicCabinetCraft.com."
That attention to detail and quality in manufacturing has been the hallmark of Gothic for 45 years. A common anecdote of Gothic's quality regularly show up in the stores when a customer walks in talking (and showing receipts) about a piece of Gothic Furniture that they still have in their home that was purchased in the 1960's and 70's. The regularity of that occurrence inspired Mr. Zaharopoulos to start the offering of a Lifetime Warrantee on all of the furniture that Gothic builds. "We have always manufactured furniture that was built to last, and our older customers show how much they appreciate it, so the Warrantee is a way to show the people who might not already know Gothic that they can count on Gothic furniture, and our company . . . we stand 100% behind every piece of furniture we make."
Gothic also shows it's appreciation for its long-time customers by giving them special bonuses. When a customer comes in with any Gothic receipt from 30 years ago or more, they are offered 30% off anything they buy. "If someone shows that kind of loyalty to us, and to our furniture, we do whatever we can to show how much we appreciate them."
It is that family business kind of feel that Gothic has maintained over the years that Mr. Zaharopoulos strives to maintain. "My father (Theodore Zaharopoulos) instilled in me a pride in the craftsmanship we deliver to every customer and the respect we show them by also giving excellent service. We've maintained that commitment to our customers even more as we grew from the single downtown location that is still there today, where my father started Gothic Cabinet Craft"
And Gothic caters to a wide variety of customers. The fact that they still maintain their factory in Queens, and staff master carpenters, means Gothic can not only provide their popular line of ready-made MADE IN NEW YORK Beds, Dressers and Bookcases, etc., but also create custom made furniture at extremely competitive prices. From a simple desk that has to fit a unique space, to elaborate built in wall unit creations with pop-up television platforms, Gothic builds them all with care and pride. And of course, they've long been known for incredible and surprisingly affordable custom built kitchens. 45 years of building a solid reputation along with solid wood furniture, goes a long way in New York; Gothic's commercial division has done so much around town as well including a recent installations in a number of Brooklyn Public Libraries.
Sample custom work photos and an online custom estimating form are available at the new Gothic-Furniture.com and GothicCabinetCraft.com.
According to Mr. Zaharopoulos, the Gothic website has also evolved over the years and has become an important place for customers to see even more offerings than they can in any one store, and in "what would have been a surprise to my father, more and more people appreciate the ability and convenience of ordering furniture online." As such www.Gothic-Furniture.com has evolved to have more items than ever, with nearly 2,500 pieces available online, all with better, more complete descriptions and exact dimensions. In store and online Gothic customers can choose their preferred wood, color and style. Or they can buy Gothic built pieces unfinished and save more money by finishing it themselves. Gothic will even provide complete do-it-yourself instructions. All it takes is a rag and a little elbow grease to save considerable money - and get exactly the look you want - by buying unpainted wood furniture and finishing it yourself.
Most customers have Gothic Cabinet craft finish it for them. The most popular finishes are Natural, Dark Teak and Antique Cherry. But it is springtime, and some people just love a good project. For inspiration go to the website and check out the photos of some of the unique projects that Gothic has done with unfinished pieces. And do yourself a favor whenever you are looking for furniture, visit a Gothic Furniture location and see how much is in store at the New Gothic Furniture.
---
New Bedroom Collections May 21, 2013
New York Furniture Maker Gothic Cabinet Craft Launches Five New Complete Bedroom Lines
New York City based furniture company Gothic Cabinet Craft announces five new complete bedroom sets adding to their expansive catalog of locally made real wood craft furnishings
May 21, 2013, New York, NY New York City furniture manufacturing and retailer Gothic Cabinet Craft (/) announces five new complete bedroom lines and two new closet systems are being added to their in-store and online inventory this month.
Gothic Cabinet Craft's new selection of bedroom sets have been designed for better storage for urban living and offer a more contemporary version of Gothic Cabinet Craft's line of furniture. Each set is named after well-known New York City neighborhoods to honor the very city where all of Gothic Cabinet Craft's furniture is made. Gramercy, Soho, Cobble Hill, Red Hook, and Douglaston. Each set has something unique and special about it, just like the neighborhoods that provided inspiration to Gothic Cabinet Craft's design team.
President of Gothic Cabinet Craft, Aristidis Zaharopoulos, says that "We are honoring our home city of New York by naming these new sets after prominent neighborhoods in the different boroughs." Gothic Cabinet Craft has been a staple in the New York City area since 1969, when the company was founded. Zaharopoulos adds, "We have been in business here for over forty years and all of our furniture is built right here in the city. I don't know of many other furniture companies that can say that."
The new complete bedroom sets all adhere to Gothic Cabinet Craft's commitment to storage, durability, and real wood construction. The new bedroom sets are made out of real wood birch, oak, or solid pine and all of the units are constructed in a way in which the nail holes are not visible. Each set is available unfinished or in a choice of our twenty colors. Gothic will also be introducing some new color finished this year.
In addition to the new bedroom sets, Gothic Cabinet Craft is also releasing two new closet systems. The Flat Iron Closet Systems are named after the iconic Flat Iron District in Manhattan. The Flat Iron closets are designed to provide superior storage while remaining stylish, giving urban dwellers style without sacrificing substance. All of the drawers in these closet systems are extra deep to provide ample storage space and move easily on built-in drawer glides.
There are also two new entertainment units now available in the Gothic stores. You can purchase either the new Ellis Media Stand or the Liberty Media Stand in-store or online, both named for the landmarks of Ellis Island and the Statue of Liberty located in the Upper New York Bay. Gothic Cabinet Craft produces quality real wood furniture that is built to last. Every item is manufactured locally in New York City and comes with a lifetime warrantee.
Specializing in real wood furniture and custom made work; Gothic Cabinet Craft has almost thirty retail locations in the New York City area and surrounding boroughs. Shoppers can view the new product lines in-store or check them out ahead of time at Gothic's online showroom.
About Gothic Cabinet Craft
As one of the only furniture companies to provide a lifetime warranty, Gothic Cabinet Craft (1-877-446-8442) is a family owned and operated business that manufactures affordable real wood furniture for every room in the house. Started in 1969 by a Greek immigrant who was determined to make his own American dream a reality, Gothic is now the largest manufacturer of unfinished furniture on the East Coast and ships orders across the entire United States. Our furniture provides an ideal storage solution for urban homes with limited floor space and our custom designed furniture are crafted with simple, clean lines to fit effortlessly into your home.
---
NYC Housing Authority February 26, 2013
Gothic Cabinet Craft teams up with NYCHA to help Hurricane Sandy victims
Click on image to view a PDF of the article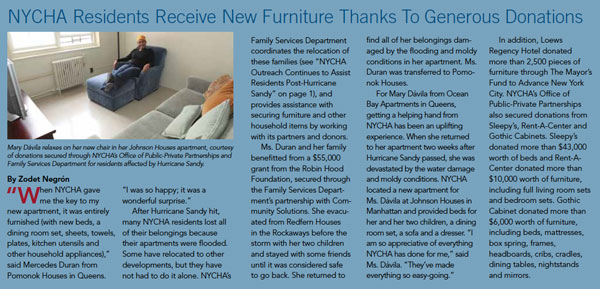 Dear Mr. Zaharopoulos:
On behalf of the New York City Housing Authority ("NYCHA"), I would like to thank Gothic Cabinet for your generous donation of furniture to NYCHA residents who were evacuated due to the flooding caused by Hurricane Sandy.
NYCHA had 26 public housing developments in the flood zone and more than 430 first floor apartments were flooded or suffered severe water damage. Many of the residents in those apartment lost most, if not all, of their possessions. NYCHA responded quickly and relocated these residents to vacant unfurnished apartments
Your donation had a significant impact. With the furniture you provided these residents are now able to begin rebuilding their lives and put their families back together. On behalf of these grateful residents, NYCHA would like to thatnk you for your kindness and generosity.
Please know your company has been an integral part of NYCHA's effort to help our residents recover.
Sincerely,
Sharon A. Myrie
Executive Vice-President
Community Programs & Development
---
Wizards Corner February 9, 2012
Gothic Cabinet Craft Provides Home Office Furniture to Wizard's Corner Pilot Program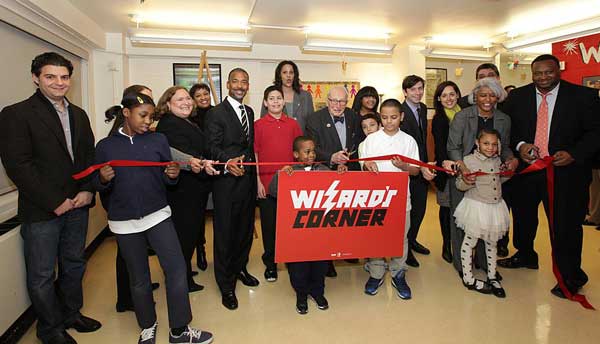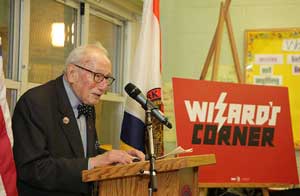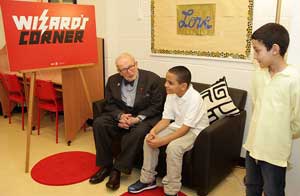 New York, NY, February 9th, 2012. New York furniture manufacturer Gothic Cabinet Craft announces today that they will be supplying the home office furniture for the new Wizard's Corner pilot program. The Wizard's Corner pilot program is underwritten by a $250,000 grant from Olmstead Properties' Joseph Rosenblatt made to the Mayor's Fund, and will provide desks, lamps and chairs to eligible children ages 5 to 11 in New York City Housing Authority (NYCHA) developments in the Williamsburg section of Brooklyn to help create their own personal space at home where they can study, read, and complete school and homework assignments.
Mr. Rosenblatt clearly recognizes that our city's young students face many challenges, and providing them with tools that enhance their study environment will give these youth a leg up on success, said Mayor's Fund President Megan Sheekey. "We are pleased to partner with NYCHA on this creative program and raise additional support to even further increase the program's reach."
The Wizard's Corner program will provide eligible elementary school children, ages 5 to 11, with up to $250 of basic equipment to help them develop self-discipline, good study habits, and effective time management skills. Wizard's Corner will launch in three community centers in NYCHA developments' Williamsburg Houses, Independence Towers, and Taylor-Wythe Houses. The program expects to serve 400 children in its first year of operation.
Eligible children will receive a home office furniture set that includes a desk, lamp and chair for their at-home use. Desks and chairs will be purchased from Gothic Cabinet Craft, and the furniture maker will deliver the already-assembled furniture to the developments for families to pick up.
Aristidis Zaharopoulos, President of Gothic Cabinet Craft, says "Gothic Cabinet Craft is honored that we are able to give back to the community that we have been a part of for so long. Being able to give these kids their own space where they can focus on their school work is such a great idea and we are very proud to be a part of this program from the beginning."
The pilot program will run from January 2012 to June 2012, and will resume at the beginning of the school year in September 2012 and run through the completion of the school year in June 2013. NYCHA is working with the Mayor's Fund to secure additional private support to sustain the Wizard's Corner program. To donate, please contact the Mayor's Fund at (212) 788-7794 or go to www.nyc.gov/fund.